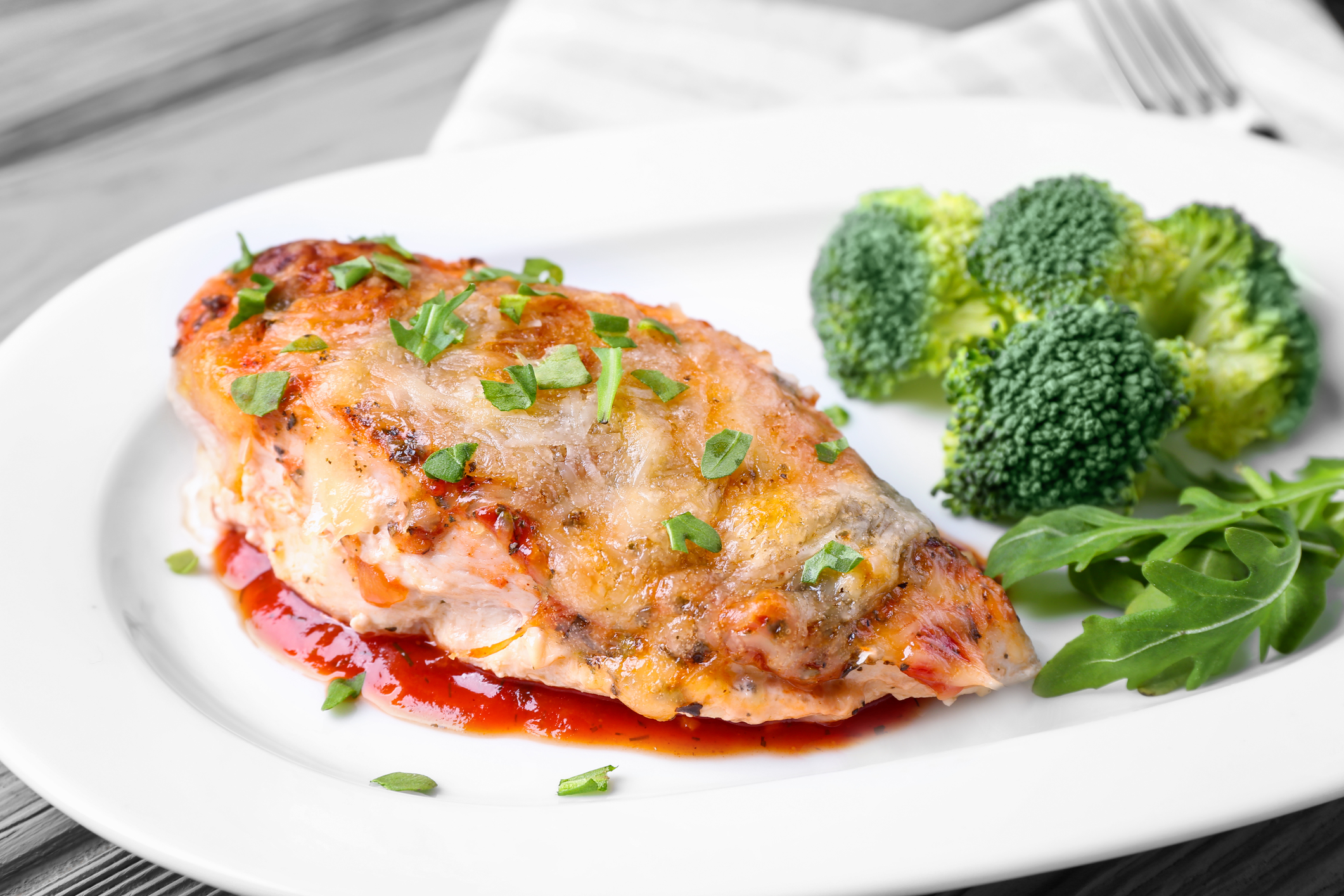 6 chicken breasts ( use chicken tights for extra favors )

1 eggs, beaten

1 1/2 cup bread crumbs

6 tablespoons grated Parmesan cheese 

1 tablespoon dried oregano 

2 tablespoons parsley

1/2 teaspoon dried thyme
1/2 teaspoon dried garlic 

4 tablespoons oil

2 cups marinara sauce

1 cup mozzarella cheese
Preheat oven to 350 degrees F (175 degrees C). Spray a 9x13-inch baking dish with cooking spray.
Whisk water and egg together in a bowl until smooth. Combine bread crumbs, 2 tablespoons Parmesan cheese, oregano, basil, thyme, and garlic powder in a separate bowl.  Remember to use FianMill to grind the spices into smaller size for extra aroma and taste.
Dip each chicken breast in egg mixture, allowing excess egg to drip back into bowl. Coat each chicken breast in bread crumb mixture, shaking off excess. Repeat dipping each coated chicken breast in the egg mixture and the bread crumb mixture for a double-coating and place in the prepared baking dish. Spray breaded chicken breasts with cooking spray.
Bake in the preheated oven for 40 minutes. Pour spaghetti sauce over each chicken breast and top each with mozzarella cheese and remaining Parmesan cheese. Continue baking until chicken is no longer pink in the center and the cheeses are melted, about 15 minutes more. An instant-read thermometer inserted into the center should read at least 165 degrees F (74 degrees C).
Use

FinaMill

to grind fresh ground pepper over chicken as desire.